Birding Botswana is based in the tourist capital of Botswana – Maun, the gateway to the world-famous Okavango Delta and other wilderness areas

This specialist birding operation has established itself to meet the needs of birders who want to be professionally informed about the birding possibilities in Botswana. General travel agencies and tour operators concentrate on "standard" game-viewing tours and usually do not know what birders want and need, nor can they be expected to have an in-depth first-hand knowledge of birds. They cater for the "generalist" traveller; Birding Botswana caters specifically for BIRDERS.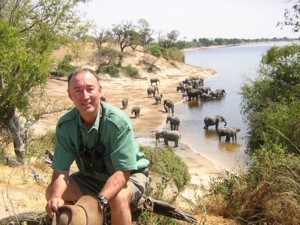 It is run by Richard Randall, a passionate birder-naturalist who has more than 40 years of birding experience in southern Africa. His first birding trip in Botswana was in 1977 and he has lived permanently in the country since 1986.

Richard is a member of BirdLife Botswana's Rarities Committee in which capacity he adjudicates rare bird reports in the country. He has recorded nearly 870 species in Southern Africa.

Having guided many birding groups Richard knows birders' needs. He has a thorough knowledge of Botswana, its birding possibilities, the best localities and where to stay and how to travel in the country. He will be pleased to tailor-make a birding itinerary for you. (Whilst the emphasis, as mentioned above, is on dedicated birding trips, it is recognised that some birders also want to combine birding with other aspects of the wilderness, and so Richard can also arrange for you other safari options and activities, from game-viewing in 4x4 vehicles to fishing and horseback or even elephant back safaris).

All rights reserved. Copyright ©2003-2016: Birding Botswana, Richard Randall.